Contributions to Safer Medical Practices
Electronic Health Records (EHR)
Medical practitioners today understand the importance of the electronic health record in modernizing their offices, but that was not always the case. As an expert in electronic health records and practice management systems with more than 20 years of experience developing and implementing medical office software, I wrote the first textbooks on electronic health records and medical practice management.
My bestselling EHR textbook was used in colleges nationwide to teach over 150,000 doctors, nurses, medical assistants and other allied health professionals the ins and outs of EHR. Pioneering an innovative "learn-by-doing" approach to medical software education, this text allowed students to practice hands-on exercises using actual EHR software
Medical Practice Management
Earlier, while working for the company that developed The Medical Manager® practice management software, I wrote a textbook to train medical office workers. Taking the same hands-on approach, the text allowed students to practice front- and back-office tasks using The Medical Manager software. This successful text continued over seven editions and trained over a half-million students.
Health Information Technology and Management
As the healthcare industry progressed toward computerization, there arose a need for an introductory text to the field of Health Information Management and the technology behind it. To prepare for twenty-first century healthcare occupations, students needed to understand the connectivity and applications that make up today's Health Information Systems. The text I wrote provided students with a thorough understanding of both the terminology of health information technology and the practical use of information systems in actual medical facilities.
Qualifications and Experience
Before becoming a full-time author and consultant, I spent 20 years in the design, development, and implementation of the preeminent practice management and electronic health records systems serving as Vice-President of Product Development and Director of Design Strategy for a $2.2 billion software company that computerized the nation's medical offices.
Author of seven college level textbooks
Used at over 1000 colleges nationwide resulting in over half-million students trained to enter the healthcare workforce.
Electronic Health Records: Understanding and Using Computerized Medical Records (3 editions)
Essentials of Electronic Health Records
Electronic Health Records and Nursing (with Sharyl Beal)
Health Information Technology and Management
The Medical Manager Student Edition for Windows (2 editions)
Managed Care
The Medical Manager Student Edition (4 editions)
Plus two companion workbooks and numerous instructor's manuals
Industry Memberships, Conferences and Presentations
AHIMA Member – American Health Information Management Association, (AHIMA) the leading health information management organization, committed to quality healthcare through information.
HIMSS Member – Health Information Management Systems Society, (HIMSS) provides global leadership for the optimal use of information technology and management systems for the betterment of healthcare.
Voting Member – American National Standards Institute, ANSI X-12n committee which develops and promulgates standards for the electronic interchange of computer data including those federally mandated by the Health Insurance Portability and Accountability Act (HIPAA,) allowing the company to lead the industry in adoption of regulated healthcare transactions.
Voting Member – Health Level Seven HL-7, the leading standards organization for communication of medical data between disparate healthcare systems. Served on the committee that developed the HIPAA standard for electronic claims attachments.
WEDI TAG Member – Workgroup for Electronic Data Interchange Task Force for Development of Electronic Remittance Guidelines.
Faculty Member or Featured Speaker at national conferences held by the National CPA Healthcare Advisors Association, the American Academy of Family Physicians, the BC/BS National Provider Automation Group, the American Academy of Medical Management, the Accrediting Bureau of Health Education Schools' national conference, and 11 of the Medical Records Institute's annual conferences that drove the evolution of electronic medical records.
Government Presentations – Expert testimony to the Center for Disease Control (CDC) panel on childhood immunization registries and U.S. Bureau of Primary Care regarding the applicability of computerized Quality Care Guidelines to improved public health. Member of a Trade Mission to the United Kingdom for U.S. Department of Commerce International Trade Division.
Attendee at additional major healthcare conferences including the Medical Group Management Association (MGMA), and the Radiology Information Society.
Giving back
Starting in 2011, I began donating my EHR design and implementation expertise to the Aravind Eye Care System whose mission is to end preventable blindness.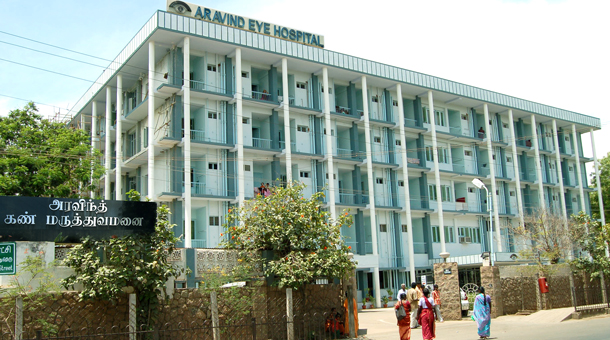 Aravind Eye Hospital – Madurai, India
Aravind Eye Hospital was founded in 1976 and has evolved into a sophisticated organization of hospitals and vision centers throughout southern India. Dedicated to compassionate service for sight, Aravind provides high quality and affordable eye care to the rich and poor alike, serving as a model, for India, and the rest of the world. Click here to learn more about Aravind.