Meet the Ragtime Dudes—Bryce, Jack and Morgan—three New York dandies with a zest for life. They love drinking, ragtime music and freethinking women. It's the turn of the century. Ragtime is in, Victorians are out, and free love is on the rise.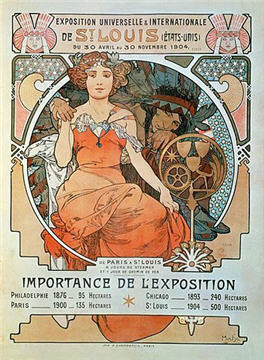 Morgan is an artist, Bryce plays ragtime piano, and Jack is fascinated with science. Theirs is a time period bursting with new inventions—the Gramophone, Marconi's wireless, Edison's electric lights, automobiles—and the Wright brothers' first flight. But the big event of 1904 is the Louisiana Purchase Exposition, popularly known as the St. Louis World's Fair.
The men head to St. Louis. Although they'd been planning to go anyway, some Irishmen angry about their dalliances with a colleen make leaving sooner seem prudent. In addition to the Fair, the city is home to Scott Joplin, whom Bryce hopes to meet. Ragtime has become the national craze, although the St. Louis Dispatch criticized it as "a veritable call of the wild which mightily stirred the pulses of city-bred people," a sentiment echoed by Bryce's mother.
The St. Louis World's Fair is a diverse exposition of art, science, industry, architecture, and anthropology. Enormous, it is larger than any previous World's Fair. Twelve hundred acres and fifteen hundred buildings, including twelve colossal neo-classical palaces surrounded by lagoons, fountains and cascades, provide a mind-boggling five million square feet of enclosed space. At night, the Fair dazzles with electric lights.
The New Mexico pavilion features a tribe of Pueblo Indians who live on the fairgrounds. Bryce finds the simplicity of native life a stark contrast to the complications of Park Avenue society. For Jack, wondrous new inventions and demonstrations of electromagnetism in the Palace of Electricity are irresistible. The draw for Morgan is the Palace of Arts, exhibiting important artwork from around the world.
In the evenings, they visit the Fair's mile-long Pike, which offers restaurants, belly dancers, and the 264-foot-tall Ferris wheel with carriages the size of Pullman cars. One night, while having dinner on the Pike with some European-trained artists, the men first hear about Taos, New Mexico.
One of the artists tells Morgan that Taos is the ideal place for painters. Pueblo Indians live there, too. That appeals to Bryce. Suddenly, an idea to open an emporium and take the wonders of the new century to Taos seems as brilliant as Edison's lights. Of course, none of them know anything about business, but they have an attitude common to young people in their early twenties that they can do anything, even if they don't know what they're doing. Within days, Morgan and Jack entrain for New Mexico to get set up while Bryce returns to New York to buy goods.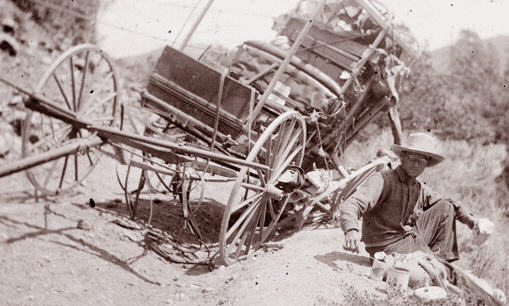 Taos seemed like the perfect setting. Today, Taos is a renowned artist colony, but my characters move there a decade before the Taos Art Society forms. Taos' appeal to artists had its genesis in the early 1900s when artists Ernie Blumenschein and Bert Phillips broke a wagon wheel there on their way to Mexico. The two men became enchanted with the light and stayed. Word spread, and fellow artists began visiting Taos.
Jack and Morgan arrive in Taos and secure lodging at a boarding house run by a widow who has two provocative daughters, Peaches and Cherry. It's not long before the handsome young New Yorkers meet the people of Taos and attract freethinking women ready to test the mores of a new century, among them, the beautiful, wealthy divorcee, Abigail.
It is a current misconception that free love was an invention of the 1960s, when in fact, two sisters in New York, Victoria Woodhull and Tennessee Claflin advocated free love and equality between sexes a century before the hippies. They gave lectures about it in Carnegie Hall to crowds of six thousand. Jack, Morgan, and Bryce are familiar with Woodhull's writings on free love and enthusiastic proponents.
However, with too little capital, their venture struggles until Abigail, a leading member of Taos society, begins holding teas at their store for her inner circle. But just as the business starts to thrive, the ladies usurp the tea parties to hire a Protestant pastor and are sent a recently ordained Universalist woman minister from Boston.
She brings into the story the Celtic concept of Thin Places—special places in nature where the Irish believe the distance between heaven and earth is narrowest. The Taos Mountains are famous not only for the artistic quality of light, but some people also claim a mystical hum can be heard there. Morgan suggests Taos may have its own Thin Place.
Calamities pile up. The Universalist's sermons don't go over well in Catholic Taos, and the ensuing religious conflict hurts the emporium's business. Meanwhile, the men lose a lucrative Gramophone deal, and while Morgan's trying to fix that, they get shaken down by a brothel owner. Then, Jack's landlady dies, leaving him responsible for her nearly grown daughters. Oh yeah, and Bryce quits to join a peyote cult.
Yet even as the partners fail at transforming Taos, Taos begins to transform them. And by the time the emporium goes belly up, they are ready to start their lives over again.